Underground Jiaohui Conference
---
Underground Jiaohui
China is viewed by many American Christians as perhaps one of the most mysterious mission fields in the world today. The sheer size of its enormous population combined with oftentimes contradictory reports on the status of its churches has in many cases lead to confusion, misunderstanding, and even apathy among would-be missionary senders and would-be missionary goers alike.
Do you desire to do something for the cause of Christ in China? Do you desire to make the name of Jesus known to its some 1.4 billion inhabitants? Do you want to sell out for God and give Him your all to reach darkness with light? Maybe China intrigues you. Maybe you or someone you know has taught English or done business in China. Maybe you want to learn more about missions opportunities and strategies. If so, Underground Jiaohui is for you.
The Underground Jiaohui Conference is exclusively for those who would consider how they can orient their lives to make an impact in China for the gospel. Lead by Vision For China missionaries with Vision Baptist Missions, the conference will encompass both preaching and practical teaching on China, the underground church, and the immense need for gospel laborers. Topics will include praying for China, boldness amid persecution, language and culture acquisition, and strategy for mission. The most exciting aspect of the conference is sure to be the time between sessions to get to know missionaries to China, ask them your questions, hear their stories, and discover their heart for making Jesus known in the most populous country on earth!
Win a Trip to China!
Vision For China is thrilled to announce that all who register and attend the 2020 Underground Jiaohui Conference will be entered to win a free spot on the 2021 Goforth China Tour!*
Register for Underground
Underground Jiaohui is in the books! We had a challenging time learning about the part we all have to play in reaching China with the gospel. Check back in the future to learn about other Underground Jiaohui events!
Tentative Itinerary: October 16-17, 2020
Friday, October 16
03:00pm Check in begins at VBC
05:00pm Meal with missionaries to China
06:30pm First Session
07:15pm China Documentary
07:45pm Break
08:00pm Second Session
08:45pm Prayer for China
09:30pm Head to Lodging
Saturday, October 17
08:00am Breakfast at VBC
09:00am Third Session
09:55am Depart for Activity
11:15am Leave Activity and Return to VBC
12:00pm Lunch
01:00pm Fourth Session
02:00pm Break
02:15pm Final Session
03:00pm Wrap-up and Finish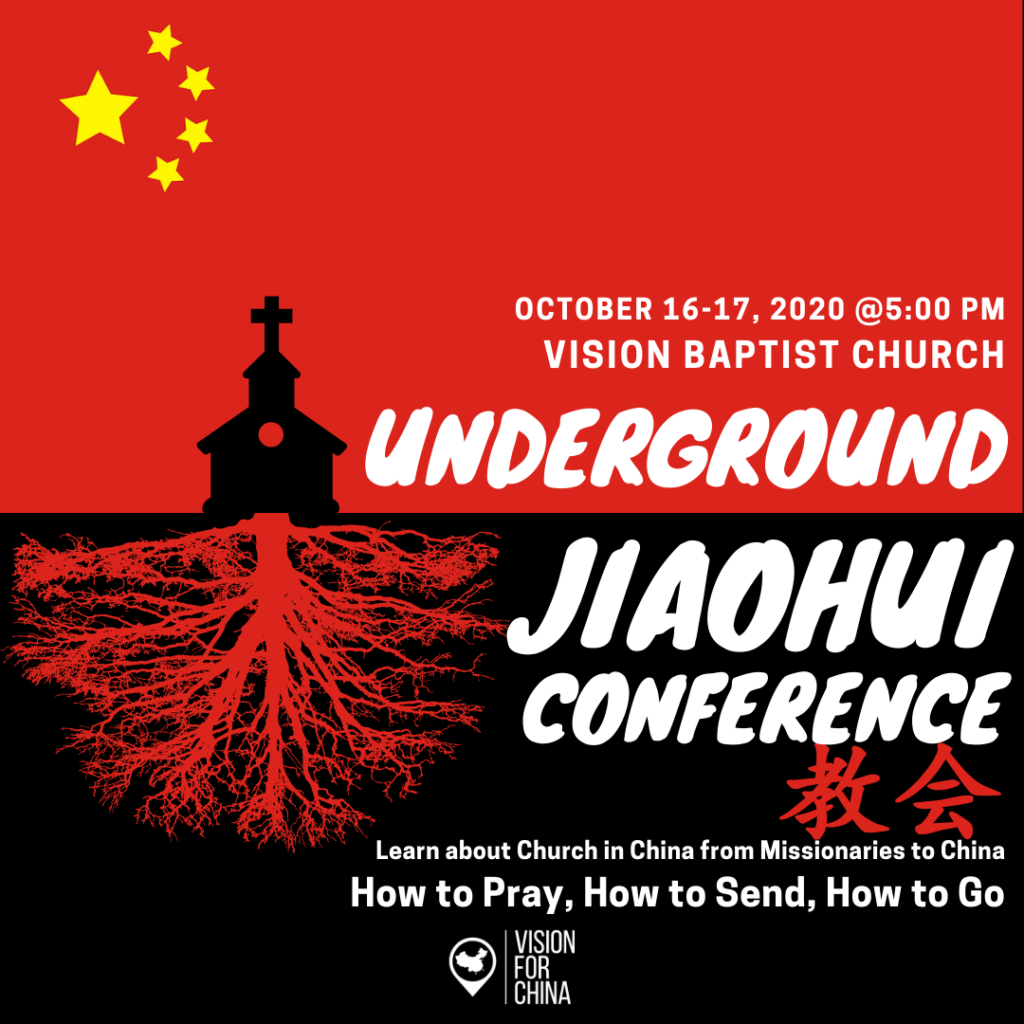 *Goforth China Tour alumni and Our Generation Training Center alumni and students are excluded from this offer. Underground Jiaohui registration fee must be paid upon arrival at Underground Jiaohui. Other terms and conditions may apply.